Our Weekend In NYC
A few months ago we were talking to our neighbors. They mentioned they were going out of town for the weekend as just a quick family getaway.
We were so jealous. Between traveling, booking hotels, finding activities, places to eat. A quick weekend away seemed overwhelming at this point in our lives.
When we asked where they were going the response was, "just to the hotel 10 minutes away".
We were confused. Then they dropped their genius weekend getaway routine on us.
They told us they like to go away every 2 months or so just to get a little break. But with 2 kids, school, work, finances traveling somewhere can be stressful to plan and cost a ton.
What they do instead is every couple of months book a night or two at a nearby hotel and just take a break.
It's the best idea I've heard in ages! And it makes total sense.
You don't have to spend allot of time traveling, there's a pool for the kids to play, maybe a spa for the adults, room service, a lobby bar or restaurant. So for two whole days no making the bed, doing the dishes, cooking meals. You just get time to relax and refresh.
If Mom & Dad want to do something alone they can just go to the bar or restaurant downstairs while the kids hang out in the room.
We couldn't wait to try this idea out so when I heard about the new app Hotel Tonight Marcelo and I decided to go for it.
Since NYC is just a quick train ride we decided to book a room in the city and have a fun weekend going to all of our favorite places with Leo.
I found a great boutique hotel, Sixty Columbus, it was highly rated and the rooms were available through the app at 40% off the standard rate. Bonus, the hotel is right off of Central Park. Perfect location! We could take Leo to the park to play, plenty of restaurants in the area and Whole Foods right on the corner in case we needed to pick up anything.
We booked it and were so excited to head off in 3 dayson our stay'ish vacation.
Since we lived in NYC until recently I didn't have to do any research on what to do, where to go and what to eat. We could just pick from one of our many favorite restaurants and let the day take us where we wanted to go.
Marcelo took our overnight bag to work with him Friday morning so I could go into the city early with Leo and our stroller. When Leo was only 2 months old I took him to The MET. It was an amazing experience! He was so visually stimulated I got these adorable photos of him.
I wanted to bring him back again and see if there was a similar reaction. (There was!)
Leo and I took a train into Manhattan shortly after Marcelo left. He fell asleep right away and I got some time to read and relax. When we got off of the train I had a text from Marcelo telling me to take the Q line to the museum. I was so confused. The Q goes to Queens, last stop is no where near The MET. But I decided to trust him and hopped on the train.
A few stops later I realized we were on the new and long awaited 2nd Avenue line! I've ridden every line in the city, and probably gone to every stop in Manhattan, in the 20 years I lived there. So riding on an entirely new line took me back to my Freshman year of college, sitting on a train trying to sneak peeks into my purse at a subway map, hoping I was getting off at the right stop. I even got to walk by my college on the way from the subway to the museum.
The MET makes it easy for families to get in and out of the building. Especially if you have a stroller. There's a special family entrance just south of the main stairs. You can simply wheel the stroller right into the ground floor. There's a desk to get your badge, family bathrooms and a lunch area to sit down and eat with any food you've brought. Plus the elevator goes right up to the main areas making it a smooth transition to get to the most popular displays.
Leo was waking up just as we arrived at the museum and had absolutely no interest in the paintings. So I walked him around to paintings of families and pointed out, "Mama, Dada, Baby" after a few minutes he caught on and was intrigued. Especially by the cherub babies.
What did he love the most.......the air vent in the floor. We spent about an hour in the Hall of Statues while he ran up and down with the AC blowing his hair all over the place.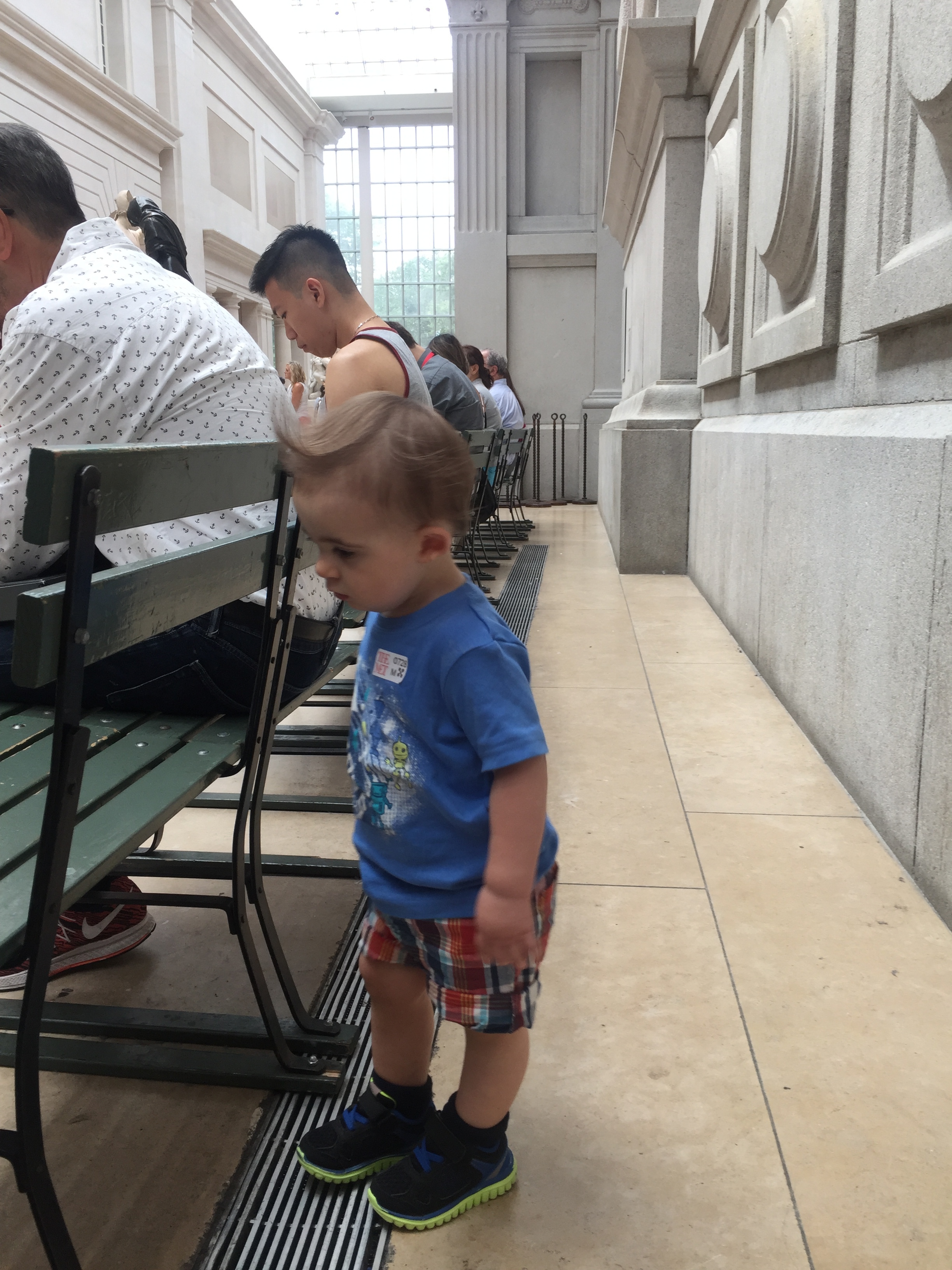 After a few hours Leo was getting sleepy again and we headed out to walked through Central Park to our hotel.
I didn't know what to expect of Sixty Columbus but was so pleasantly surprised! The front desk was friendly and helpful. The lobby is cozy with big couches. Many of the guests were hanging out reading and looking at magazines. There's also Blue Ribbon Sushi restaurant in the hotel. If I didn't have Leo with me I probably would have gone in there for a drink and some food before Marcelo got out of work. I was excited to see our room, especially since they had upgraded us to a King Superior.
We got into our room and went straight for the big comfy bed. Leo went crazy playing with the hotel phone. I had to unplug it so we didn't accidentally call the front desk.
The bathroom blew me away. It totally made me rethink color schemes. I always think white for tiles. The black was so dramatic and elegant. I felt so posh getting ready for dinner in front of the glowing mirror with the chic background.
Marcelo came straight to the hotel after work and we all hung out for a bit while trying to decide where to go for dinner. Another reason the hotel was a perfect location is that it's right by some of our favorite restaurants!
We wanted something family friendly but really good so we decided to head over to 5 Napkin Burger. We've been obsessed with their hamburgers for years. The rosemary garlic aioli, caramelized onion and Gruyere cheese. It's absolutely the best burger we've ever had.
Leo had the chicken strips and happily agreed with our choice.
We wanted to walk around after dinner but Leo passed out in the stroller so we decided to head back, enjoy the hotel and get up early the next day.
The next morning we woke up refreshed and excited to start our day.
Marcelo had been talking about Maison Kayser and their delicious pastries so we walked across the street to go there for breakfast. Everything looked AMAZING! It was difficult to decide. In the end we ended up getting a few different types of croissants to share. The woman behind the counter recommended a bag of chouquettes for Leo. Little tiny pastry puffs covered in pearl sugar....he was in heaven.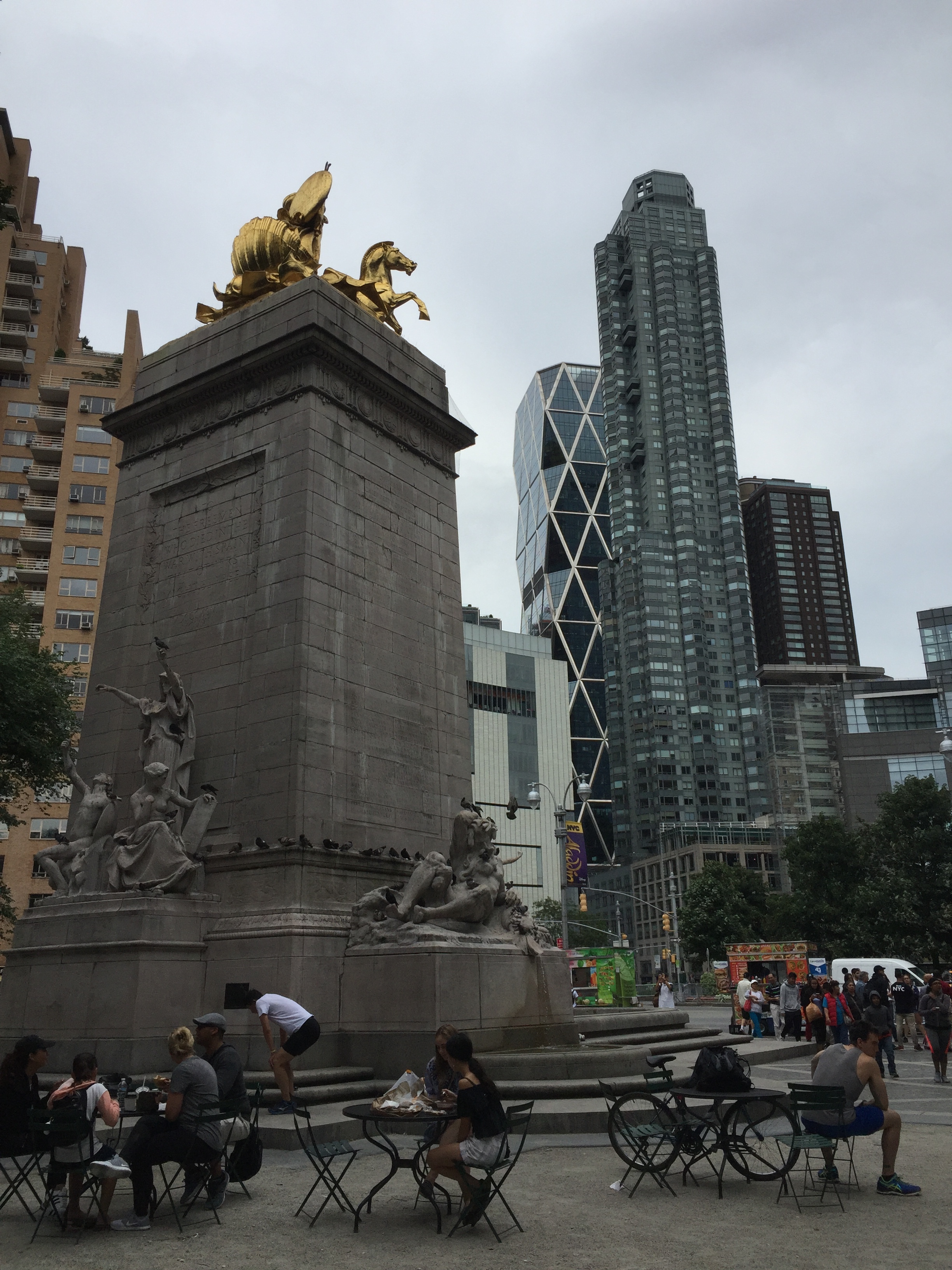 We took our breakfast across the street to the park fountain. We took quick bites in between chasing Leo....who was chasing the birds.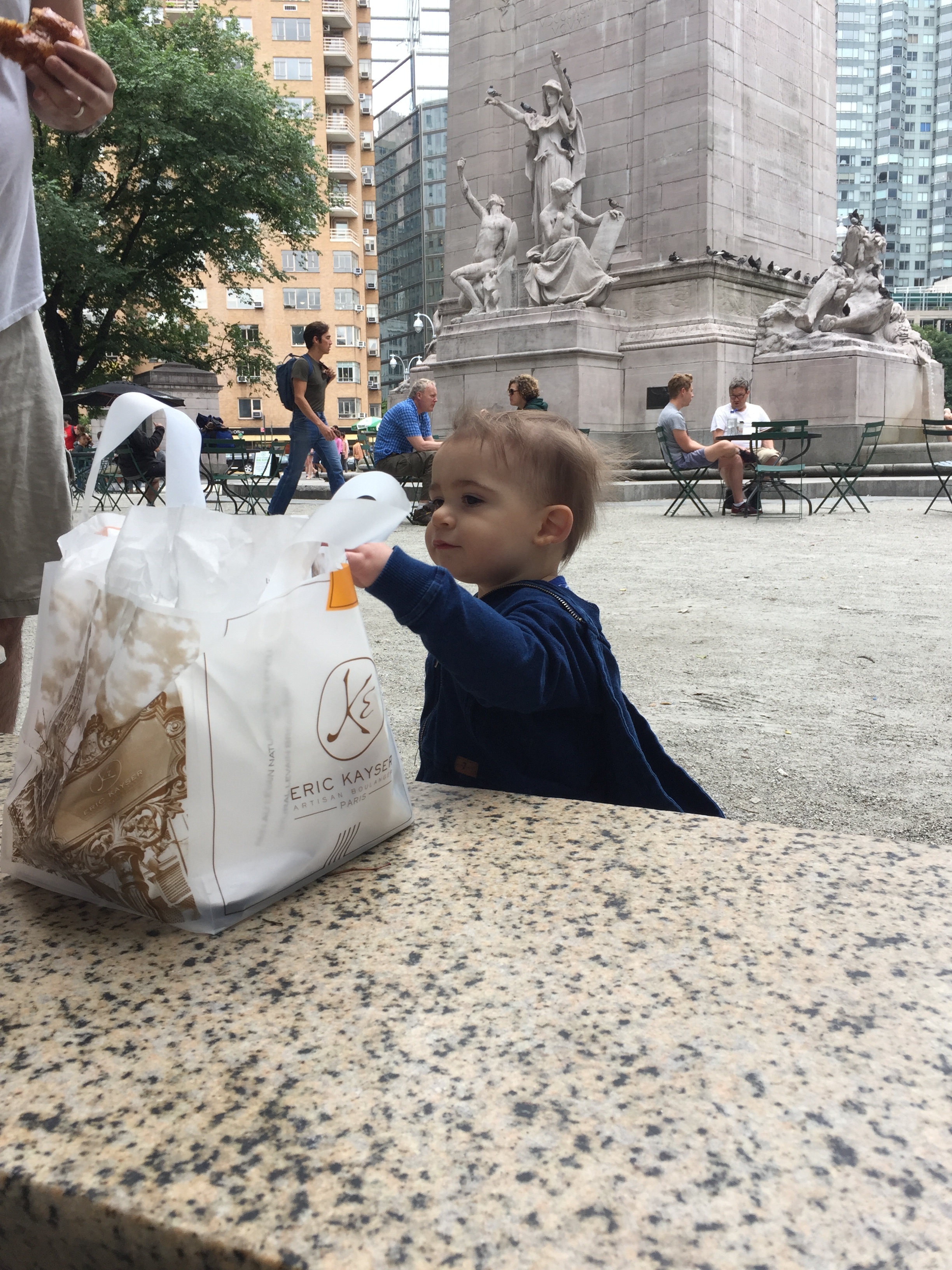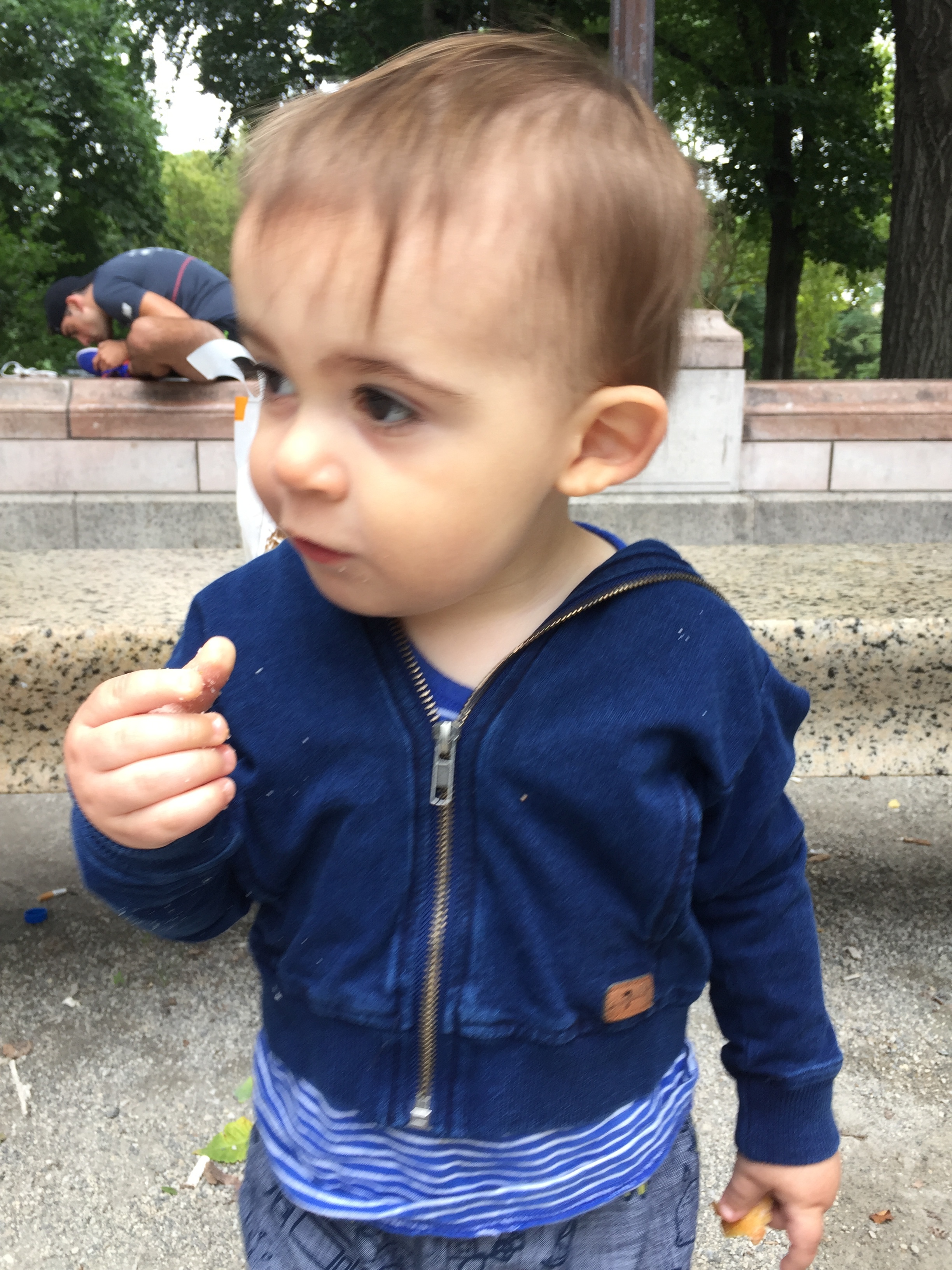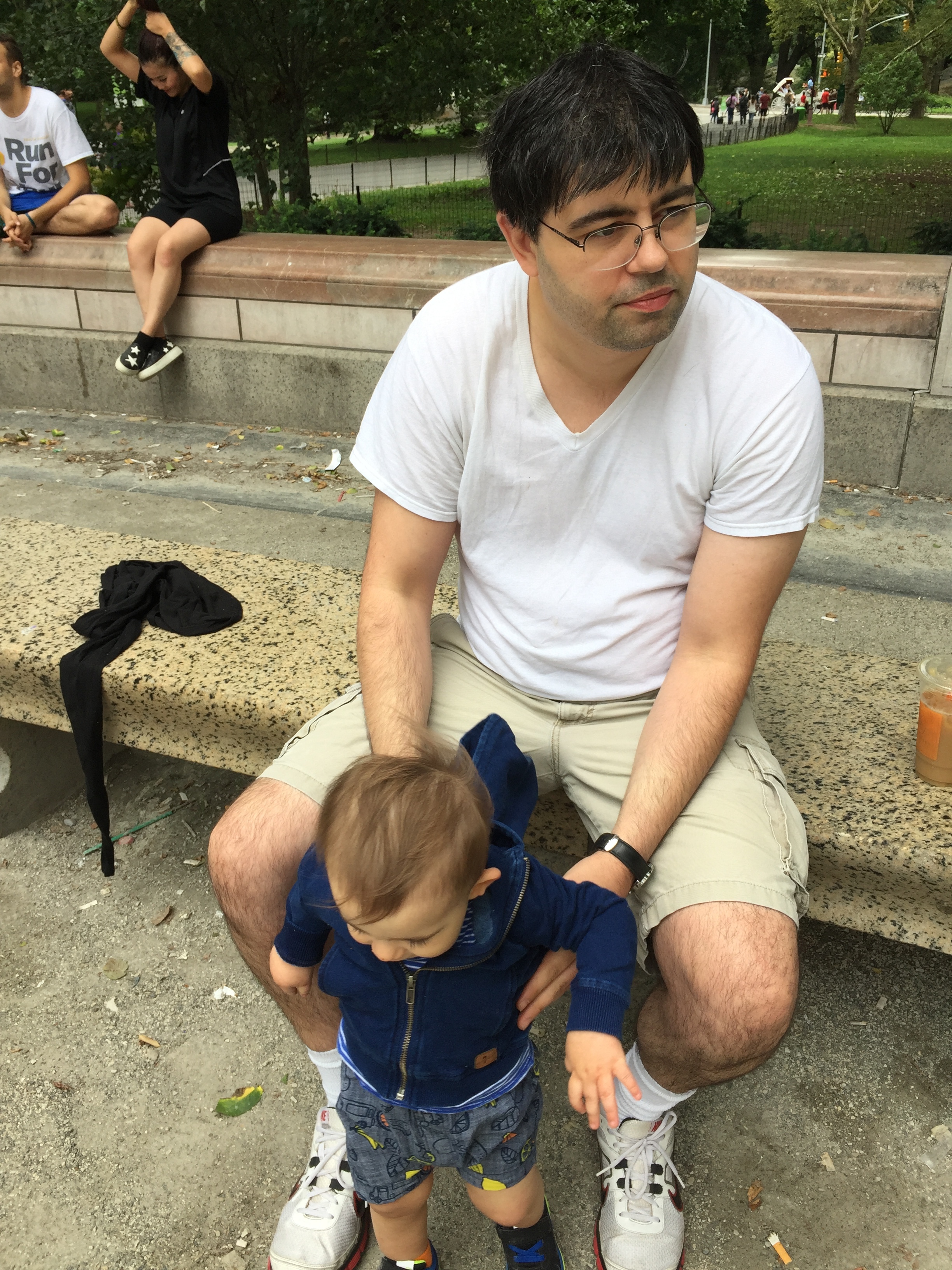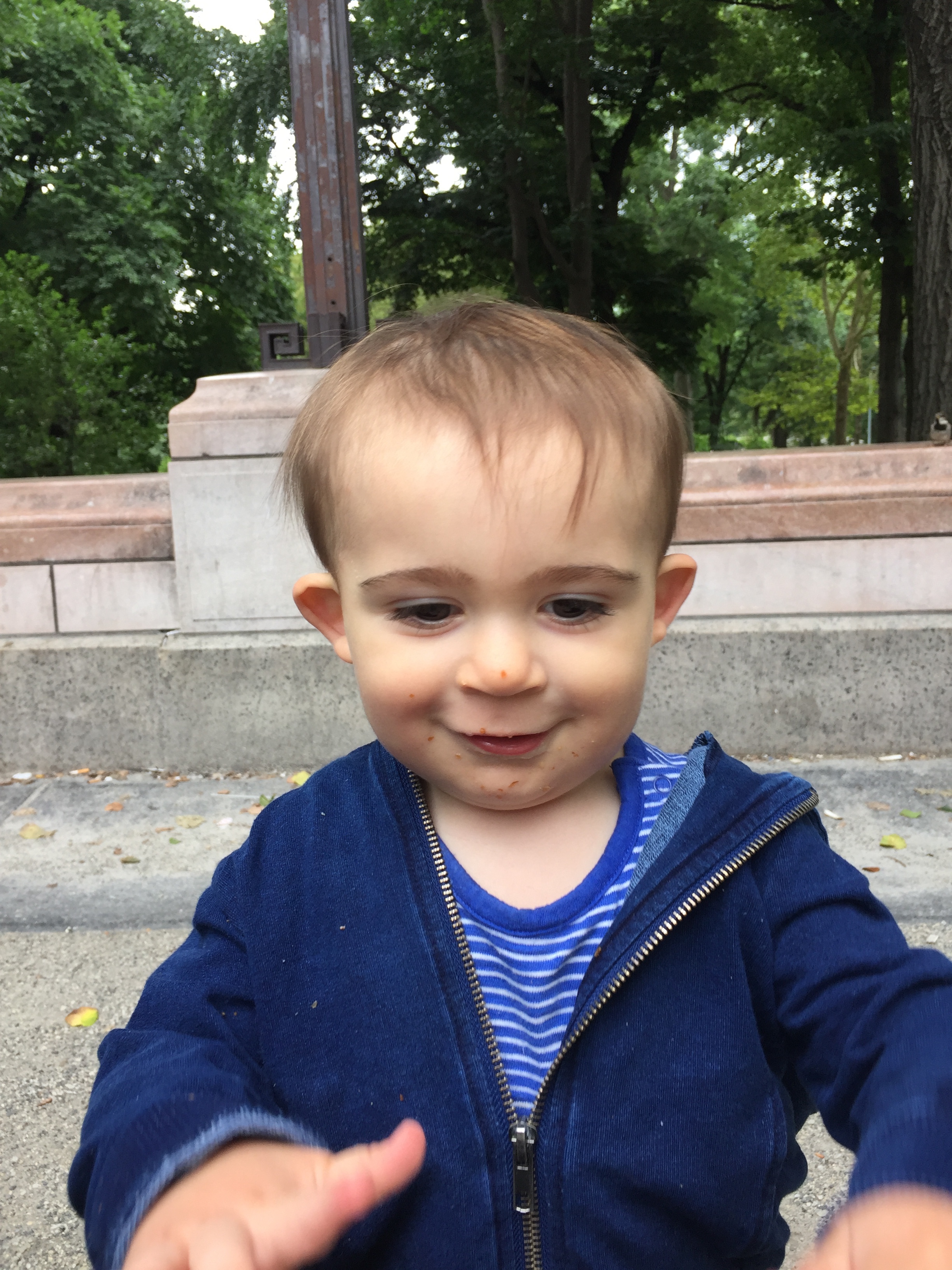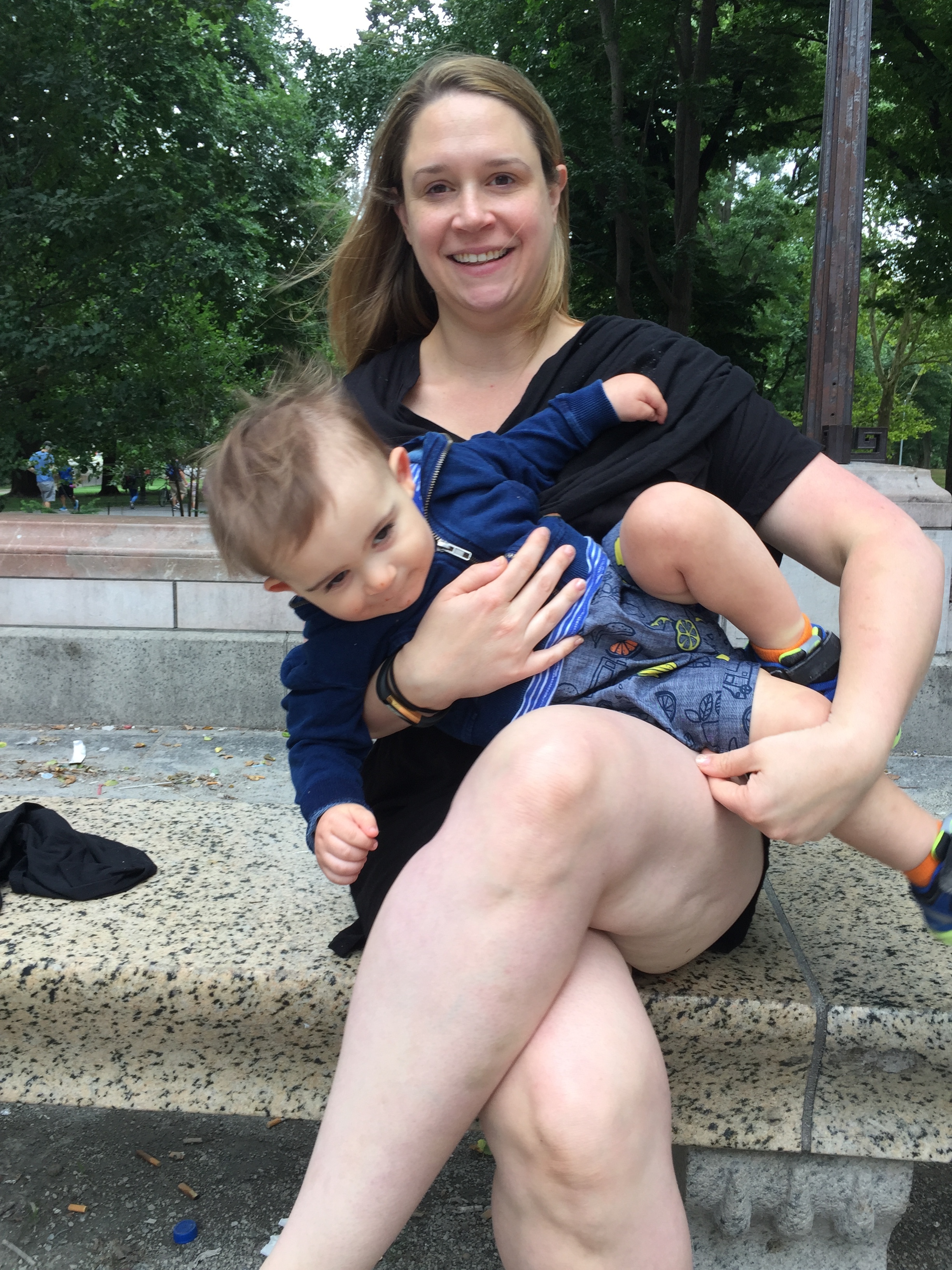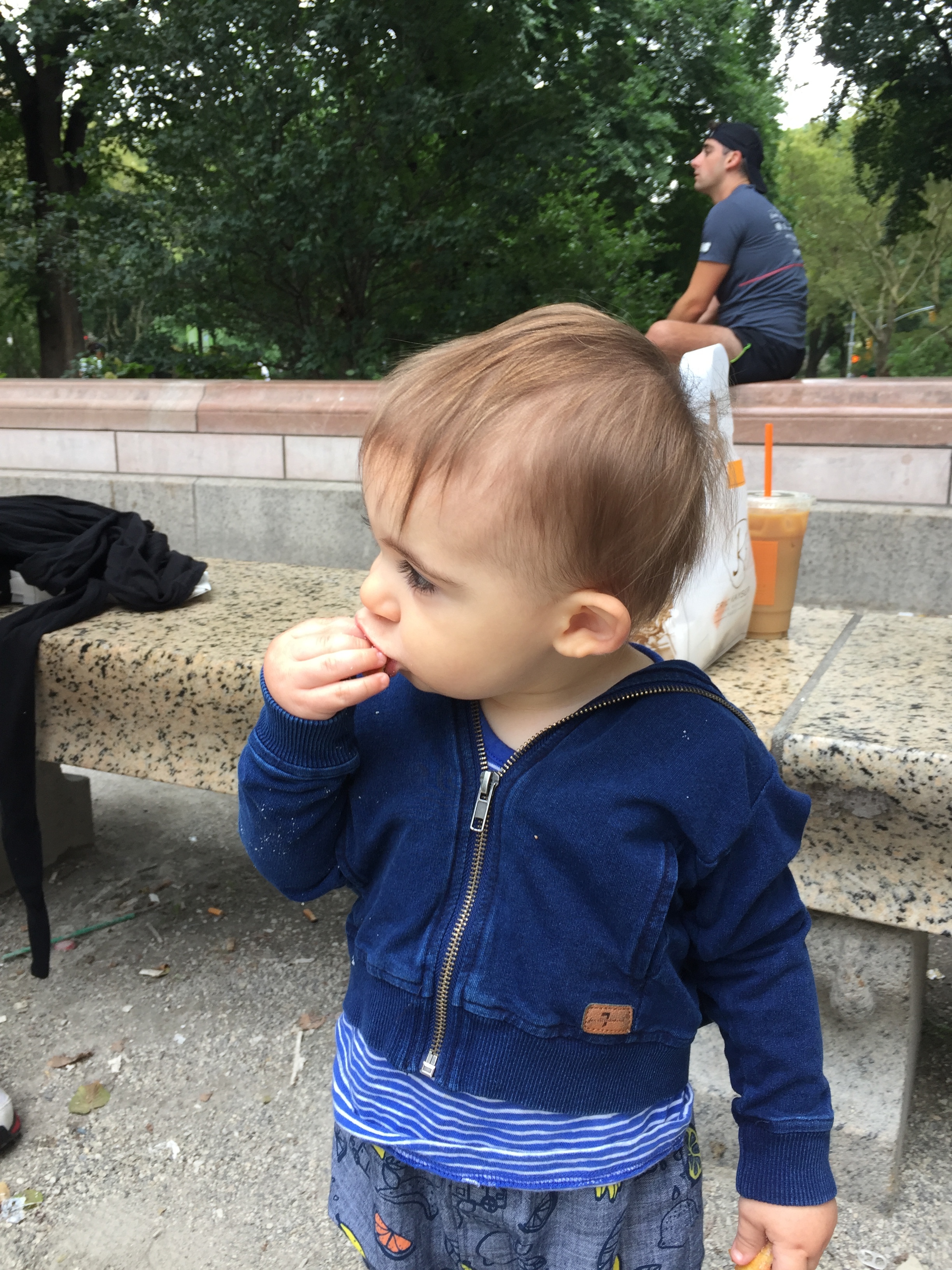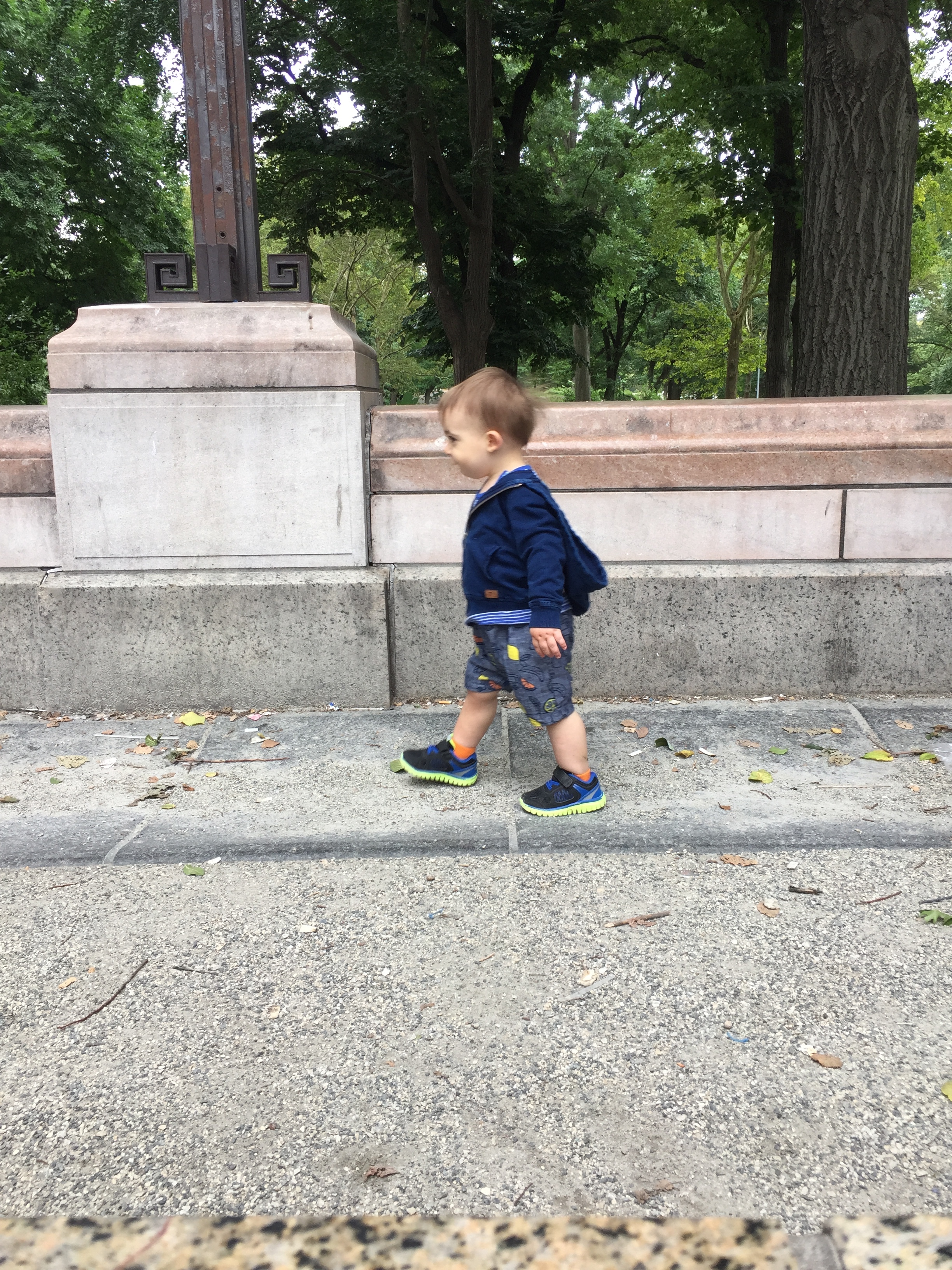 Originally we were going to go to the Museum of Natural History. It was so beautiful out we decided to take Leo to our favorite spot in Central Park to spend the afternoon. So many other families were out exercising and having Mommy & Me classes in the park
Sheep Meadow is the absolute best place in the park to spend the day. Everyone is laying out, having a picnic, reading a book and there's still plenty of room for kids to run around and play without tripping over blankets.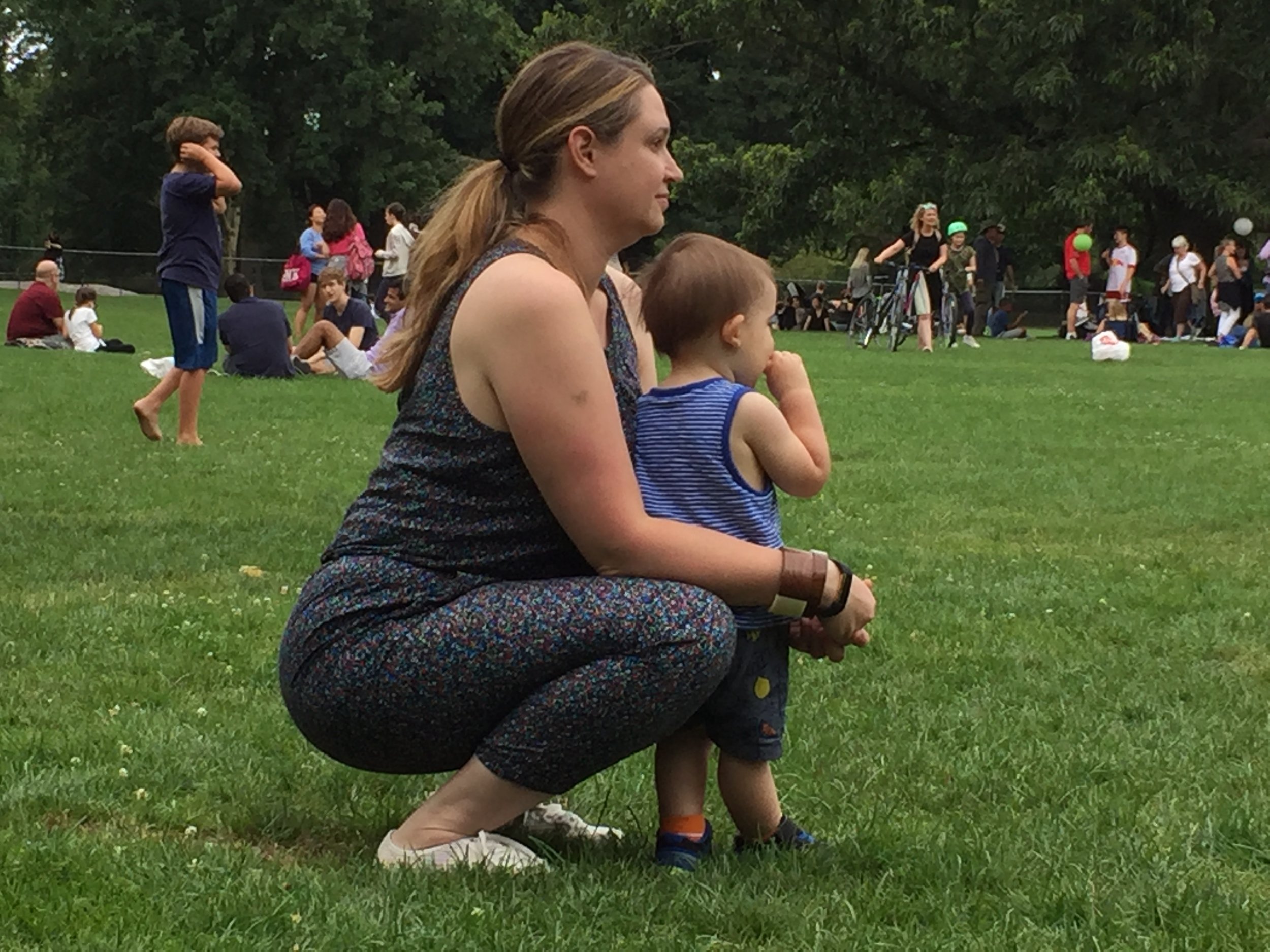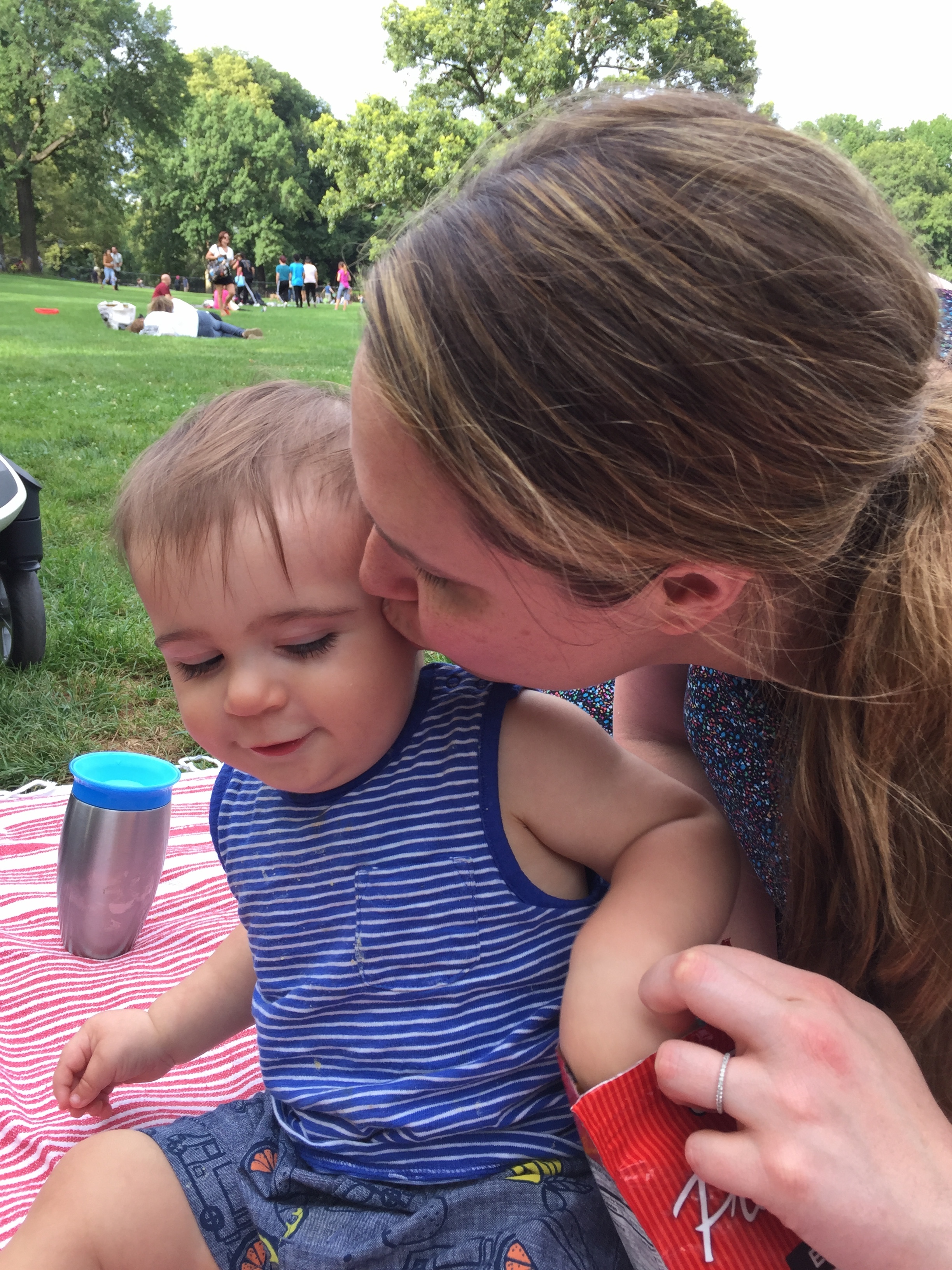 Tavern On The Green is right across from Sheep Meadow. They have a takeout window for sandwiches, lemonade, beer, salads and snacks. So if you don't have time to pack anything. Or if you stay longer than planned all you have to do is run over and pick something up. Bonus they have the cleanest public bathroom in the whole park.
Leo had a blast running around with the beach ball we brought. At first he was afraid of all the people in the park. By the end of the day he was running up to other kids with soccer balls, babbling to the people hanging out next to us. He even crashed a picnic party by running into the middle of a groups blanket. (Luckily the group had a good sense of humor about it.)
We were having such a good time the afternoon just flew by. Eventually Leo started rubbing his eyes and we knew it was time to head back to the hotel for a nap and some downtime.
While Leo slept Marcelo and I discussed where to have dinner. Finally we landed on one of my favorite places in the city, Totto Ramen. I went here at least once a week while pregnant. They're broth is so rich and flavorful, there's nothing else like it.
After we sat down Marcelo pointed out that there were several other pregnant women dining there. We had a good laugh about it and decided there must be a secret ingredient that makes pregnant women crave their soup.
After dinner we walked out with full bellies and felling so happy. I wanted to go find ice cream but Leo passed out again. All those noodles and broth worked their magic! We walked back to the hotel past the hospital where he was born for our last night in NYC.
In the morning we found ourselves back at Maison Kayser for more pastries and coffee. We thought about sitting down in the restaurant but going back to the park was too tempting.
The hotel wasn't able to give us a late check out. They were so nice about it though and held our bags at the front desk for us while we hung out in the city for a bit.
We didn't want to go too far but couldn't resist going to our favorite brunch spot. Il Bambino was located around the corner from our apartment in Queens. They recently opened up a new location in Manhattan. We love their food and service. All the ingredients come from some of the best purveyors in NYC like Murray's Cheese. The restaurant is the epitome of high quality ingredients done simply. We started going to the Queens location when it was relatively empty every day. By the time we left Queens lines would form out the door for a table at dinner time. Going to the new location was heartwarming but made us homesick for Astoria at the same time.
Leo started getting sleepy at the end of brunch and we knew it was time to hop on a train and head back home. It was hard leaving after such an amazing weekend. But knowing how easy it would be to come back again made it allot easier.
We returned home feeling refreshed and relaxed and ready for the busy week ahead. Our little mini-get-a-way had been the perfect break from everyday life. We can't wait to do it again!
ENJOY!