Our Trip To Portland: Part 2
A few weeks ago we had our first family vacation. We were lucky enough to visit 2 places during our trip.
I flew out at the beginning of the week and spent a few days in Portland, OR. Marcelo met us in Portland later that week and we all headed up to Seaview, WA for my sisters wedding.
The best part about heading up to Seaview is that it was the first time any of us had gone there. Every trip Marcelo & I have taken together one of us had already been there and was almost showing the other person around. In Washington we were exploring together for the first time.
We started the 2nd part of our trip with a 3 hour drive further into the Pacific Northwest. Leo & I picked up Marcelo from the curb at baggage claim and took off.
Most of our trip was spent on a major highway. As we got closer and started traveling on smaller roads we got a chance to see more and more of the landscape. The forest and lakes that you drive by are beautiful. I spent every summer growing up in Maine. This reminded me of Maine but the colors are deeper and everything looks richer.
Because we had picked up Marcelo at 7 PM it was dark by he time we arrived in Seaview at The Sou'Wester.
The Sou'Wester has quiet hours after 10 pm out of respect to their neighbors. We went over to my sisters cabin to pick up our keys and say hello to everyone. Then headed to our cabin next door to get Leo to bed.
When woke up the next morning Leo got a surprise.
Leo had slept through the drive up so he didn't realize Marcelo had joined us. When he woke up and saw his dad he got so excited and ran around the cabin shouting "Da-da-da-da". It just made my heart melt. Leo refused to leave Marcelo's side for the rest of the day. Even when Marcelo was brushing his teeth Leo insisted on being in the room.
Finally he calmed down a bit and we were able to look around the cabin a bit.
The Sou'Wester is comfort camping with a vintage feel. All the rooms are made to be rustic with style.
Our cabin felt so cozy with the kitchen table and record player in the living room. If it weren't a wedding weekend I could see kicking back in my room for a lazy morning of sipping coffee while listening to music.
Even the vintage trailers they rent out have renovated interiors. The entire sire was rented out by wedding guests for the weekend so I got the chance to peek inside a few of the trailers.
Another feature we loved was that the cabins had its own covered outside area. Each section was unique. Ours had a kitchen table and chairs.
My sisters had velvet benches built into the walls. Another had a selection of different types of seating. It gave you the option to privately hang out outside. Or you could go to the common area with picnic table to enjoy the scenery and meet new people.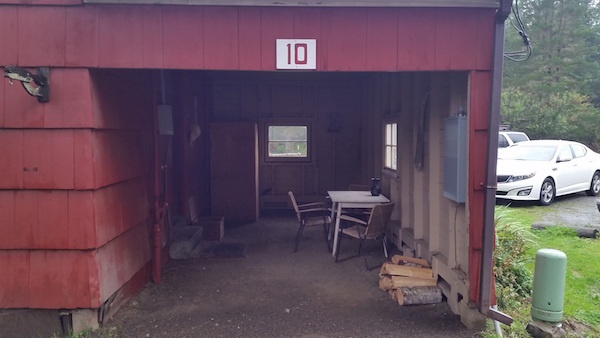 We didn't have too much time to spend at our table that morning because we needed to get breakfast.
There were a few places in the area I had read up on. We decided to check the most popular local place out "Laurie's Homestead".
We arrived to a huge waiting line out the door. I went to ask the waitress how long the wait would be and miraculously she said 2 minutes! They were finishing up cleaning some tables and bringing everyone in right then. Perfect timing!
We grabbed a few of the children's board books available at the entrance to keep Leo occupied at the table. Then Laurie herself offered us a choice between a table and a booth that would work well with a high chair. We went with the table in the back so we could look around.
The walls are decorated with old family photos. It gives the restaurant such a personal feel. On top of that this is definitely a locals restaurant. The patrons sitting around us all knew the waitresses by first name. They all spoke to us about their kids and what they liked on the menu. I love it when people in restaurants feel free to start conversation between tables. For me it's always a more memorable experience.
I ordered a cranberry banana bread for Leo to munch on while we looked over the menu. When it came out we all helped ourselves to a sample. This was listed as a side and should have been our first clue of the portion sizes because it was practically a half loaf of baked bread.
We all wanted eggs so Marcelo & I decided to split 2 omelettes. Everything sounded so good it was hard to decided. In the end he got the blue cheese bacon omelette. I ordered the fried corn omelette listed as "Laurie's Favorite". If you go order the corn omelette. It was delicious and unlike anything I've ever had. Corn, onions, bacon and cheese. So unexpected yet perfect together.
When the waitress came back it was more food than we had ever seen. Huge omelette! Plus grits, biscuits, sausage, home fries and cornbread. We were barely able to make a dent.
We packed up the biscuit, cornbread and leftover cranberry banana bread to take to the cabin in case we needed a snack for Leo. Marcelo wanted another coffee to help him with the jet lag so we took a drive down the road to look for a coffee shop.
We found several drive thru coffee kiosks around the area including metro coffee. The drive thru was perfect we could leave Leo in his car seat. We grabbed our coffee and headed back to the lodge.
Marcelo & I headed into the main lodge for the first time when we returned. We had been told that there were toys and a large common area for people to hang out. They also had private rooms to rent upstairs and down. As well as items for purchase, records and books to borrow. All on the honor system. If you take something you leave money or write down what room to charge it to.
They have everything you could need from beer to milk & eggs.
If they don't have it in the main lodge there's a trailer right outside selling "items you may have forgot" swimsuits, sunscreen, hats, towels.
This was also where a few of the other wedding guests were staying. We were able to let Leo run around. Kick a ball and meet some of the other guests. I would have loved to book a massage or try out their sauna but there just wasn't enough time.
Pretty soon it was time to get ready for the rehearsal. We figured out our line up did a quick run thru and then went back into the lodge for dinner. Leo got to meet the flower girl and finally had a playmate!
After dinner was a bonfire and s'more roast on the beach. Even though it was past his bed time Leo's never seen the ocean (and I was craving s'mores) so we took the quick 15 minute walk from the Sou'Wester to the beach.
It was amazing watching Leo realize just what he was looking at. First he was confused. We kept saying: water, pool, splash. Suddenly it clicked and we couldn't keep him in our arms. He just wanted to run and play. We managed to get a few photos but nothing could draw his attention away from the ocean.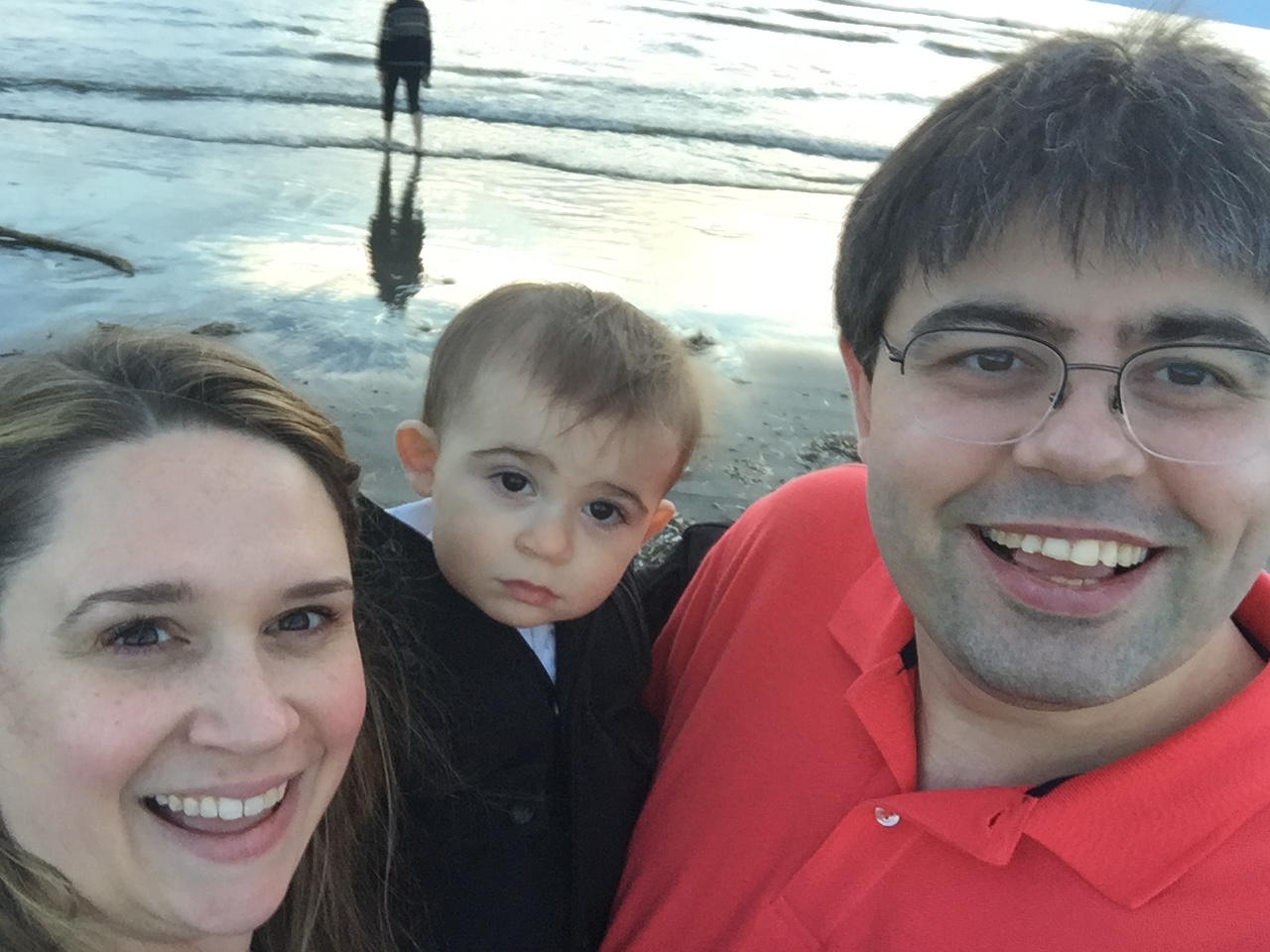 After we joined the group back by the bonfire everyone watched the sun set and lit wedding sparklers. Leo couldn't hold out anymore so we had to skip the s'mores and make our way back to the cabins.
Next day was wedding central. Marcelo watched Leo while I spent time with the bridesmaids getting ready. We could see the ceremony location from the window and felt the excitement mounting as it got closer to 3 pm.
Leo was the ring bearer and had to get dressed up for the ceremony. Marcelo texted me this photo after he got him dressed in our cabin. He looks so unhappy! But shook it all off when I gave him cookies before the walk down the aisle.
The reception took place in a big tent set up next to their events hall. I would love to say that I got to hang out and enjoy but I spent most of the night running around with Marcelo chasing Leo. We finally got him to stand still after he absconded with this pink flamingo and spent the better part of the night placing it in different areas around the Sou'Wester.
By 9:30 PM we were done. Leo was tired and due to the 10 PM quiet hours the wedding would be wrapping up soon. We headed back to the cabin for our last cozy night.
The plan for Sunday was to get up early and be on the road back to Portland by 10 AM. We were hoping to have a full day together in the city and revisit Salt & Straw with Marcelo.
Marcelo and I ran out with Leo to Cottage Bakery & Delicatessen to get some donuts and coffee for everyone. Everything was fresh baked and delicious!
By the time everyone packed the cars, took down the wedding decorations and said their goodbyes it was 2 PM. The last day of our vacation was sadly going to be spent in a car and an airport hotel 30 minutes outside of Portland.
The next morning we got up at 4 AM to make our flight on Alaska Airlines. TSA took forever. We got to the gate after everyone had boarded with 5 minutes to takeoff. I panicked. Leo needed a diaper change....BAD! The people at the gate told us not to worry and to take our time. We love you Alaska Airlines!
Leo fell asleep during takeoff and we got four hours to sit back and relax on the plane. People even commented on how well behaved he was. (If only they knew)
Marcelo made his first Bad Dad joke over this photo. "It's a double mountain" Get it?......double rainbow......yeah, it was a Bad Dad joke all right.
All-in-all we agreed that it was an outstanding week that we'd love to do again!
SAFE TRAVELS!