Our Trip To Portland: Part 1
We had our first family trip the other week. It was great to get away as a family, explore a new city, see new sights and do it all together for the first time. Even better was having the grandparents along to help out!
I mentioned before I was flying out on my own a few days before Marcelo. I was really nervous about the 6 hour flight by myself with a baby. Luckily my Dad was able to change his reservation and fly with us.
We booked on Alaska Airlines and I'm so happy that we did! They were incredibly friendly, helpful and accommodating. They changed our seats so we could all sit in the same row. And even though Leo was booked as a lap infant they blocked out the middle seat so we could have the extra room for him. Good thing they did because he needed it.
The flight attendants were great. They kept stopping by to see if we needed anything. By the time we took off at 5 PM Leo still hadn't napped so I really appreciated their coming by with water, crackers, rosé. After he fell asleep they came by with food for purchase. I couldn't reach my wallet since I was holding a sleeping baby and my Dad had decided to take a little nap as well. The flight attendant brought me a fruit & cheese plate at no charge. It was little things like that which made me really happy we chose to fly Alaska Air.
We arrive so late that night we ended up just going straight to the Airbnb and crashing. My parents had decided to rent a large Victorian House for the week so all 6 of us could stay together.
We all woke up the next morning starving and took the 3 minute walk to one of my favorite Portland breakfast places, Genies. I like to hit up this restaurant for breakfast at least once each trip to Portland. I always have a hard time choosing between their pancakes and their yummy scrambles. This time I didn't have to choose. I got the Bacon Scramble for me and a Blueberry Pancake for Leo, who kindly shared.
After breakfast it was full wedding task mode. While my Mom & sisters went to pick up the wedding dress. I brought Leo with me to Cash & Carry (an awesome restaurant supply store anyone can purchase from) where he might do less damage. My sisters wedding was about 70% DIY. We were able to get the soda, liquor, produce and some food items needed for the big day. We put everything on a big cart which clearly said DO NOT RIDE ON. Leo kept trying to climb on it. They were nice enough to say we could break the rules for our cutie pie and he got to ride all over the store on it.
After all the errands we headed back to the Airbnb and got cleaned up for a joint dinner with the bride, groom and both families.
We all went to Burrasca, a Tuscan Soul Food Italian restaurant. My sisters and I started out with these delicious cocktails. The waiter came by to tell us about the specials. A few people at the table order the special starter, a shaved raw artichoke salad with lemon vinaigrette. I was intrigued by one of their regular starters. An artichoke flan with butter & parmesan. It ended up being creamy, warm and delicious!
Eating with a large group, especially family, is always fun because you can try a little of what everyone orders. Since there were so many of us we basically covered the whole menu. When the food arrived it looked as scrumptious as it tasted.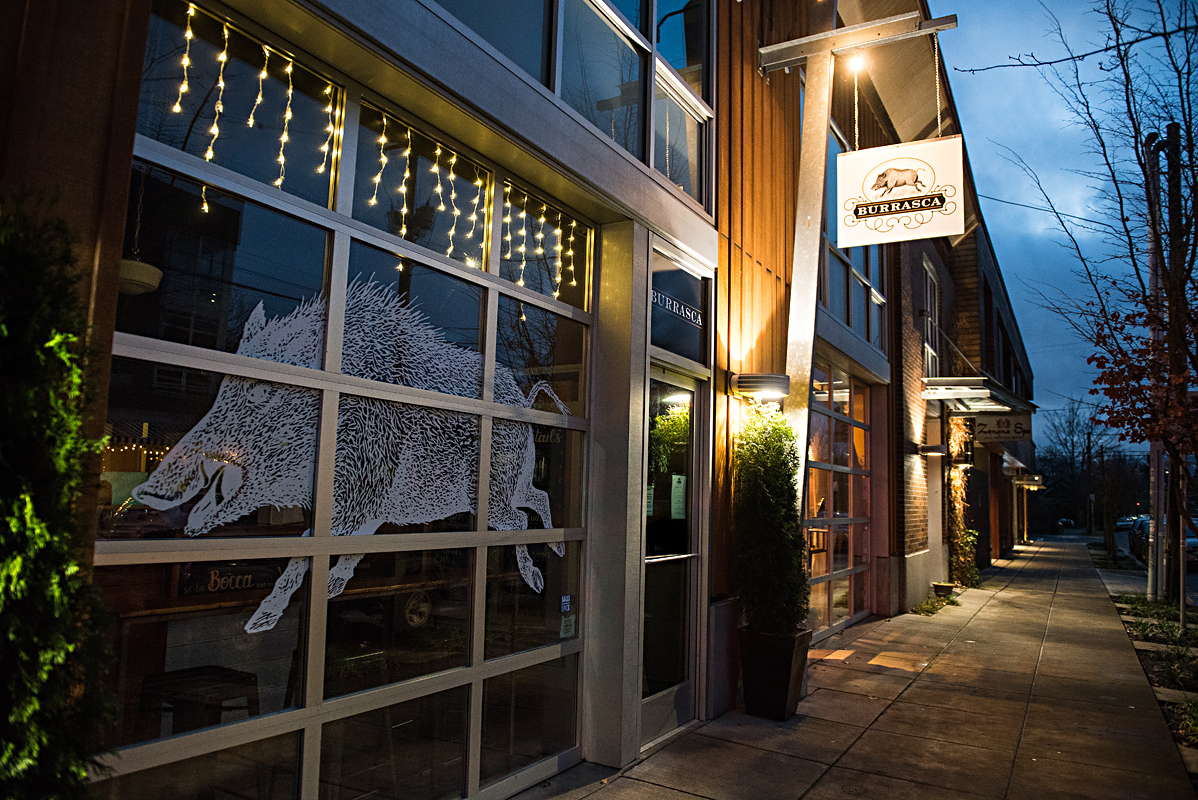 My sisters both got the spinach & ricotta gnocchi which was a little crispy on the outside and melt in your mouth on the inside. My Mom got the pan roasted organic chicken with garlic, sage & white wine, SO GOOD! My Dad got the pork loin with fennel pollen & herbs. It smelled so mouthwatering. I got the daily special, tagliatelle in a sauce with crispy prosciutto & peas. I'm hungry just thinking about it. Leo happily snacked away on their potatoes fried with garlic, sage & rosemary.
We finished and headed across the street to Fifty Licks to try some of their inventive ice cream flavors such as: Chocolate As @#$&, Thai Rice, Cornbread with Honey Butter Swirl and Blood Orange Creamsicle. I ordered a scoop of Chocolate and Caramelized Honey to split with Leo. He gobbled it down and then did his happy dance around the floor. He liked it so much I had a hard time getting to eat any of it myself!
We all went home happy and full.
Wednesday morning we woke up ready for another amazing breakfast. I had read about JAM a kid friendly restaurant on Hawthorne. We arrived and I had no idea just how kid friendly it was. They have a full on children's play area with tons of toys! Since it's a pretty popular restaurant we had about a 20 minute wait. Leo happily played in the kids zone until our table was ready. They'll even seat you near the play area so your little one can have fun  while you eat with both hands.
Once breakfast was finished my Mom and I decided to take a walk with Leo. I love walking around Portland. The whole city is broken out into little neighborhoods each with its own "hub area" of restaurants, coffee shops, stores, etc. Then around it houses and a few apartments. You truly get a big city, little city, suburb feel being there. It's the best of all worlds.
We went over to New Seasons Market to get lunch. I love New Seasons! Imagine Whole Foods......but better! Tons of local produce, beer, wine, food. It's great! I asked if they have any plans to open on the East Coast but sadly they are strictly a West Coast chain for now. Leo and I split his first PB&J. If you're going to start with PB&J this was the way to go. Thick, yummy fresh baked bread with organic peanut butter and homemade strawberry jam. It's like the PB& J of your dreams. It was so good we ate it before I could take a photo!
After lunch my sister picked us up and we went to get manicures & pedicures with the bride. It was great to have some girl time and just hang out admist all the wedding preparation. I hadn't had a manicure or pedicure since before Leo was born so getting pampered was a big treat for me.
The bride had to take off as soon as we finished to get the decorations done in time to leave for Seaview, WA the next morning. We all wanted to try something a little different for dinner and drove across the river to Tasty & Sons, an inventive American restaurant with a focus on southern food.
All the plates as Tasty & Sons are made to share. Everything looked and smelled so good I almost didn't want to. As soon as we walked in I saw a grilled chicken with white BBQ sauce being delivered to a table and mentally bookmarked it to order. We ended up getting the Radicchio Salad, Hush Puppies, Biscuit Board, Fried Oysters (my favorite appetizer!) to start. Everything was so satisfying and comforting I couldn't wait for the mains to arrive.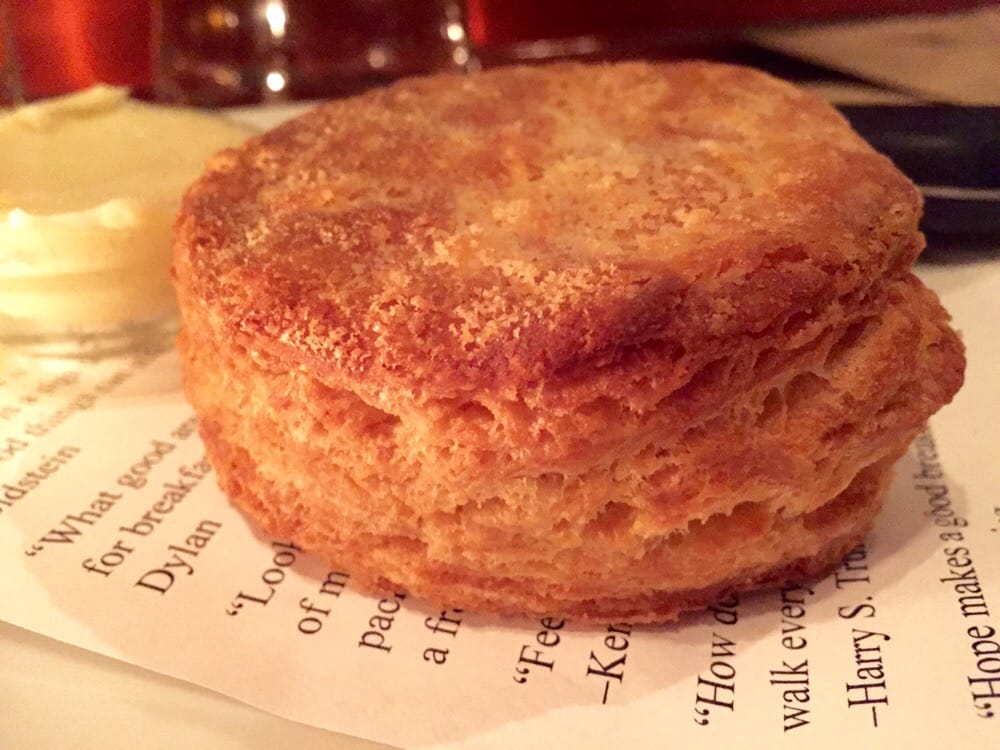 For the main course we all shared the Alabama BBQ Chicken with White BBQ Sauce (I practically ate the whole plate myself) and the Lamb Sugo (a pasta lamb dish). Leo got Tynan's Mac & Cheese and ate more than I've ever seen him have for dinner.
We wanted to try the desert at Tasty N Sons but I had seen an ice cream shop down the street. I really wanted to try some more Portland ice cream so we walked a block to Scoop.
I love how they let you try whatever you want before ordering. Since I was splitting with Leo again I let him have a taste test before we ordered. We ended up ordering the Brown Butter Almond and of course Chocolate.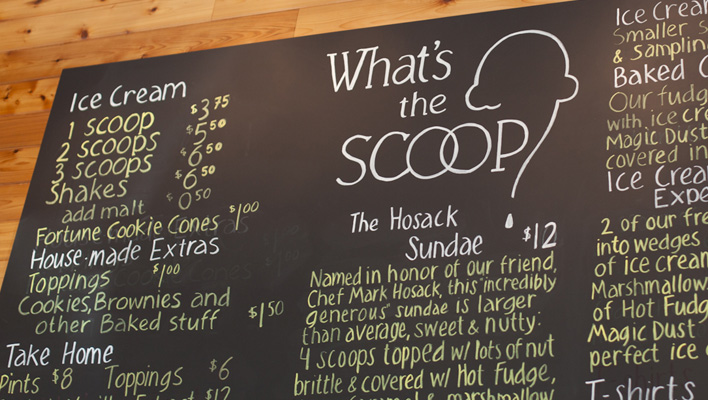 Thursday was our last full day in Portland. Marcelo was flying in that evening and we were all driving up to Seaview, WA for the wedding weekend! I woke up early to hit VooDoo Donuts new location near us. I'd been there before and wanted to show Leo their donuts in the shape of ghosts. We never made it because I got a call from Marcelo saying he had missed his flight. We all thought he was supposed to be on the same flight as my Cousins in the afternoon. Turns out his flight had departed hours ago at 8 AM. We decided I would call the airline and he would head to the airport to see if he could get one of the remaining seats on the flight.
1 hour later I got a call from Marcelo he had checked his bags and was heading to security. I held my breath while I waited for him to tell me that the ticket had cost us 100, 200, 300..bazillion dollars! Know what is cost to get him on a new flight?! $25. That's it. We are officially flying Alaska Airlines whenever we have the chance. They are the best customer service hands down!
I had about 9 hours to kill until Marcelo's plane arrived so I decided to take Leo to Kenilworth Park. They have 2 great playground areas and tons of green space to run around and explore. We went to the section with the baby swings and the smaller slides for Leo. He had the best time running around and picking up pine cones to share with the other kids. By the time I put him back in the car he passed out for a nice long nap.
There were about 5 more hours until it was time to get Marcelo from the airport so we parked the car in the Richmond section. While Leo napped I watched Keeping Up With The Joneses. I love Zach Galifianakis he is always unexpectedly hilarious.
When Leo woke up we continued our ice cream tour by popping into Salt & Straw. They have amazing flavors and let you do half scoops so you can try more of them. For myself I tried the Goat Cheese, Marionberry & Habenero. It was creamy, rich with a kick that is unexpected and satisfying. I also tried their Meyer Lemon Buttermilk with Blueberries that was tart and sweet in all the right ways.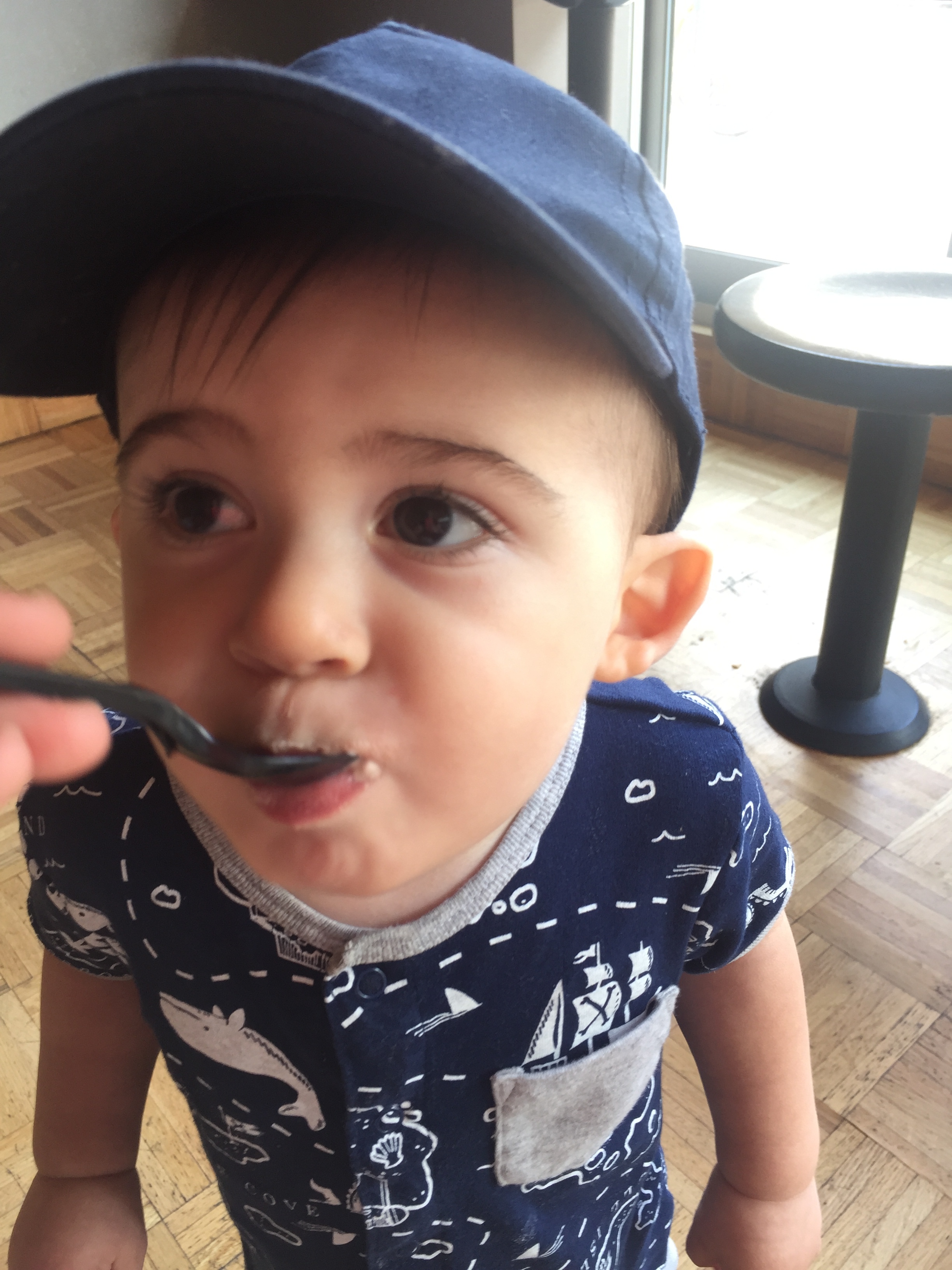 I got Leo 2 kids scoops from the classic menu Double Fold Vanilla & Freckled Woodblock Chocolate. I didn't get to try either because he gulped them down. This kid LOVES ice cream!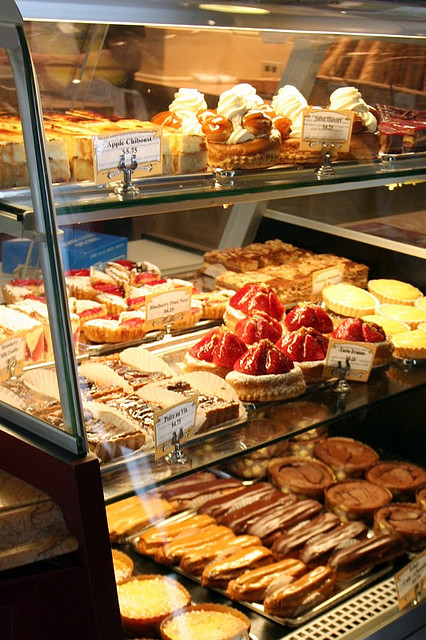 We finished up in time to grab some sandwiches next door from St. Honore Bakery. They not only have amazing pastries and fresh baked bread but make classic french sandwiches as well. I got a Ham & Cheese for Marcelo and Herb Brie on Baguette for myself to eat on the 3 hour drive to Seaview.
Then off to the airport to get Marcelo.
Part 2 Of Our Trip Next Week!