Choosing A Wedding Dress
Anytime you know your going to be photographed allot it's hard to decide what to wear.
Even harder when you know a camera is going to follow you around all day long oh AND these photos are going to be ones you show friends, family & children for the rest of your life. But no pressure.
It took me months to find my wedding dress. Mainly because going in I didn't know which direction I should go in.
My original goal was to not spend over $500 on a dress. So I started at The Bridal Garden. This awesome bridal consignment shop in NYC. Designers and Brides donate wedding dresses to this non-profit organization. When you purchase a dress the proceeds go to education for disadvantaged children. I trudged out in he middle of a blizzard to try on Vera Wang gowns that had only been worn once.
I loved it! But decided to wait until my sister was in town so I could go shopping with my whole family.
We decided to do one big day of shopping and made appointments at 4 different bridal shops.
We started at Lovely Bride, which my friend had recommended. Where as soon as we walked in my sister grabbed this dress and said you should try it on.
I put it on and everyone immediately said. This is it! Only I wasn't so convinced. It was totally different than what I had pictured. Plus it was 3 times what I had wanted to pay for a dress.
So we kept going.
I tried on this dress which was close to the Vera Wang.
We went on to the next stop, The White Gown, where I tried on something completely different.
No one loved it. So I let me family make a few choices for me
We left the 2nd place with more of an idea of what I didn't like vs what I wanted and added a stop at David's Bridal out of curiosity.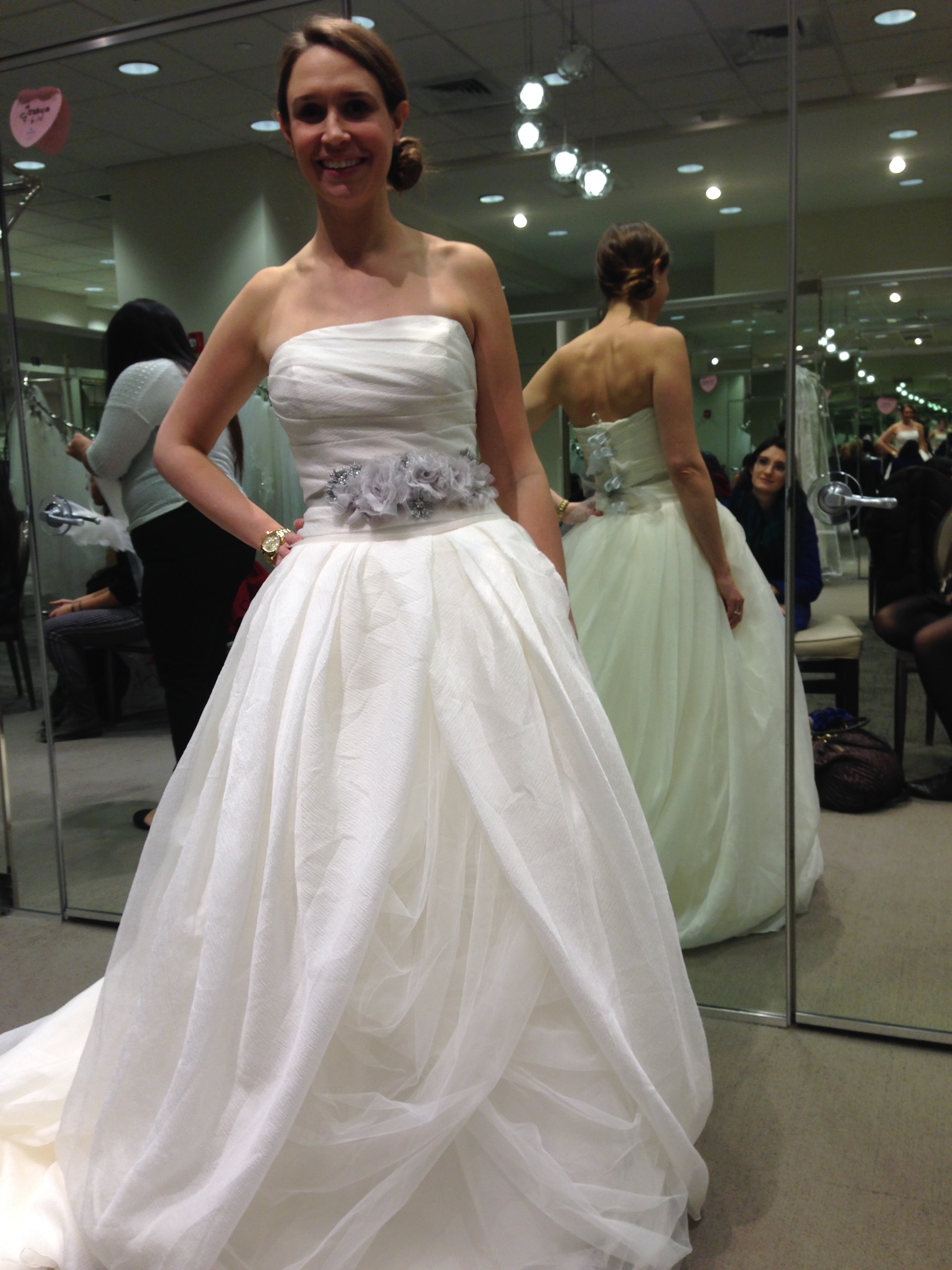 They had some great selections from their Vera Wang collection. With a price tag I was more than happy with. The skirts were just too full for me. I wanted to dance the night away and didn't see myself doing it the way I wanted in these gowns.
Next stop was J.Crew (where I always thought my wedding dress would come from). Loved the options LOVED the prices. But got some pressure from my family to get something whimsical.
Off to Anthropologie it was! Their dresses were beautifully designed. Romantic, chic and elegant.
I think because it was 7 PM and I had been trying in clothing all day I felt so overwhelmed.
I went back home still not knowing what I wanted. I kept not knowing what I wanted until May when a friend asked what my dress looked like. I STILL had not picked one. Her response, "uhhhhh you have 3 months until your wedding. You'd better order one fast!"
I looked over all the photos from the dress-a-thon day. Know which I went with in the end
The very first one! The one everyone declared was "my dress". I could have saved so much time if I had stopped the search right there.
At least this way I had no doubts, no what if's and no time to wish I had picked something else.
The day of my wedding I was so happy with my choice and never wanted to take the dress off.
So when you go dress shopping. Go for it! You only get one time to get what you want so make sure it's without a doubt your dress.
GOOD LUCK!