Women's March On Washington: My Experience
How was the Women's March On Washington? In one word.
Empowering.
Every woman has her own reason for attending. Mine is that I was recently discriminated against by an employer. So when I heard the announcement for the Women's March I immediately thought I will be there.
The morning before the march was hectic. Trains sold out quickly but I was lucky enough to find one that left at a time when I could get my son settled in before heading out. I was running way behind because I had to make a clear backpack before leaving.
My Mother drove like a rock star on the highway to get me to the station with 20 minutes to spare. Go MOM!
Once on the train I realized that ever car was full of women. It was incredible!
I didn't know it at the time but similar situations were happening all over the country on planes, trains and highways.
Our ticket taker even took off his Amtrak cap and put on a pink hat in support of us. Spirits were high.
Things quieted down during the inauguration. Everyone was on their devices with disturbed faces. I was across from a Daily Show Correspondent who kept remarking how sad this event was. We all felt the same.
Afterwards I put down my phone and looked out the window with the heavyhearted realization that things were still the same yet everything had changed.
Arrival at Union Station was very low key. I was carrying my clear backpack so it was fairly apparent why I was In D.C. I saw Trump supporters everywhere. It was very awkward when we made eye contact there was always a recognition and silent exchange of looks to say "I don't want any trouble" on both sides.
I got to the hotel before the rest of my group. And had a whole hour to myself! Utter bliss!!!
The ladies I was rooming with surprised me with a hat that one of them had made for me.
Then it was down to business. We had a poster party in the room.
My sister arrived in D.C. later that evening had her own poster party with friends at their hotel. They totally schooled us in the artistic department.
Sharing a hotel room with 3 other moms was great. We had wine. Read the news stories from the day. Talked about our kids. Then at 10:30 PM fell asleep.
The plan for Saturday was to be up at 7 AM and out of the hotel as quick as possible.
We arrived at the station coffee in hand by 8:30 am.
Squeezed into the first train that arrived and we were off!
People on the train were so chatty. There was a great feeling in the air of excitement. While this was serious business true to the song we were going to have fun!
The closer we got to D.C. The more crowded each platform became.
When we were still on the metro my sister texted to say there was a 3 hour wait to get on the trains from her station.
Then we were at the Judiciary Square Station and everyone poured out of the train.
Here's a photo of when we arrived.
Nothing compared to the amount of people we saw from this view by 1 PM.
There was no way to get by the stage to hear speeches so we stood between the Capitol and the Washington Monument.
The flags from the previous days inauguration were still up and were a constant reminder of why we were there.
For the next few hours we did what you do at a protest. We chanted, sang, exchanged stories with other protesters. I was taken with all the signs. There were so many great statements and things that I forgotten about. The most surprising were the Carrie Fisher signs. There were allot of Princess Leia signs saying "A Woman's Place Is In The Resistance". The more women I saw gathering, the more signs I read, the more impassioned I became about the movement. You forget how much power there is in numbers until you are in a group like this.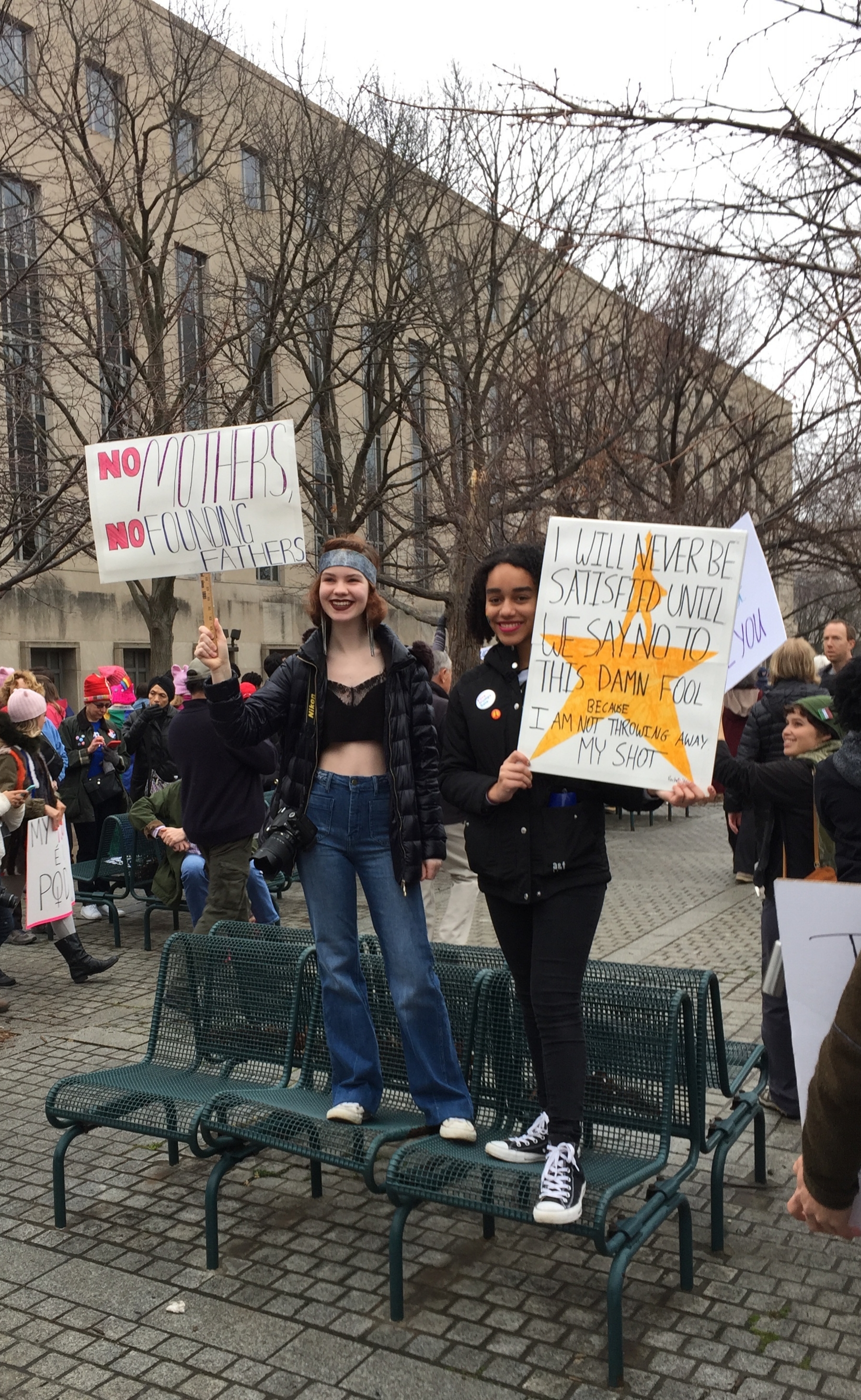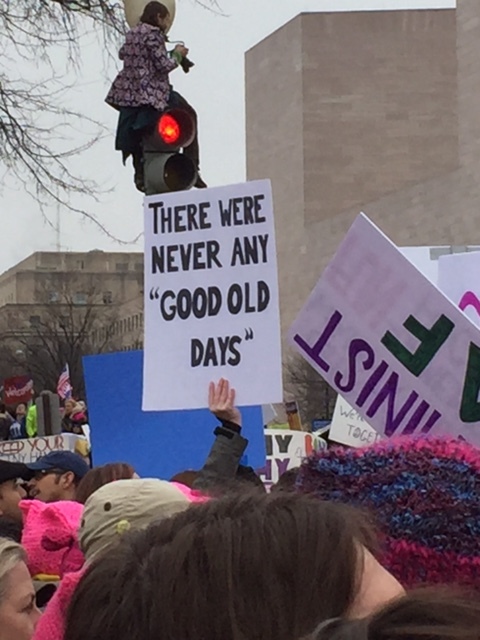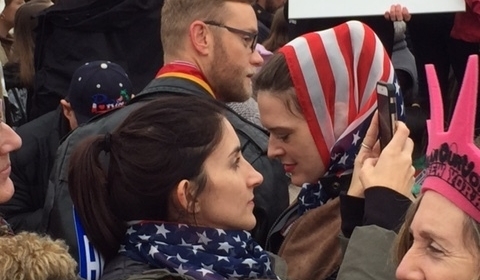 I once had a professor who said to the men In our class "women know when they are being discriminated against It may not look or sound like it to you but we know when it's directed at us for being women."
When I saw these women with their sweat jackets and canes I thought. Yes even they know what he meant with that statement. How can anyone with a conscience deny the truth.
I've heard so many times on t.v. that the march was beacuse people are angry, people are mad and pissed off. Here's the thing about women's protests. They are the nicest protests you will ever go to. Everyone there was so friendly, polite and super chill. I mean look at these police officers. They just hung out all day smiling and waving hello to people. You can't see it in this photo but there was a female officer on duty with this group who brought her own sign reading "Human Rights Are Equal Rights". I wanted to high five her for being so awesome!
Around 1:30 PM we headed to 3rd & Liberty the starting point for the march. Wen we arrived there was some confusion as to when we were starting, etc. But then all of a sudden people started walking. We were off!
Each time we passed an intersection thousands of people merged into the march. As soon as we saw them a huge cheer and applauding would start up. There was only good vibes as we marched. I never felt any negativity.
Except for when we passed Trump Tower. People boo'd at the top of their lungs But no one stopped or threw anything or did anything harmful or damaging.
As we rounded Pennsylvania Avenue towards the White House a woman too old to march was sitting in the bleachers clapping and shouting "Great Marching!" Her cheering gave us all a boost.
Housekeepers were leaning out hotel windows with their cell phones recording us. We cheered and clapped for them. Shouted for them to come down and join us.
Then we realized something wasn't right. Suddenly we were on the street with cars?! The police began attempting to re-direct the march down alternate streets. I think it was to break up the marchers for safety. Our numbers were MUCH larger than anyone anticipated
We were all apologizing to the drivers of the cars now stuck in the middle of our march unable to go anywhere. One woman leaned out her window and told us not to apologize she had all day to get where she was going.
We couldn't get all the way to the White House. A fence was still up from the previous day blocking any access to that section of the street. It didn't matter though. By then we had made ourselves heard loud and clear.
The others ladies I was with were able to stay the night since their children are several years older. I had a bus to catch so we said goodbye and I ran off to the metro.
The platform was PACKED with people still chanting and cheering.
When I got off at the Stadium Armory it was still amazing to see just how many of us there were.
Peoples positive reactions to us made the experience even more fulfilling. The attendant directing foot traffic thanked all all for coming today and she asked us to "come back again SOON".
We all applauded for the National Guard as we passed them cheering "thank you for your service!". To our surprise National Guard members watching us from the steps of their building came down to the platform to applaud for us. It was really touching.
As my bus pulled out of the stadium lot I felt so proud of what had been achieved that day.
The Women's March was about all of us around the world uniting, saying we know who comments like the ones Trump made were directed at. They are meant to make us feel powerless and small. We're not powerless and small. We're strong and we don't have to live with it. Not anymore.
Driving home in the dark thinking over the events of the day I got teary eyed because it felt so good to be a woman.